An important feature of democracy is the public's ability to access information from those who serve. This is especially true of the election process.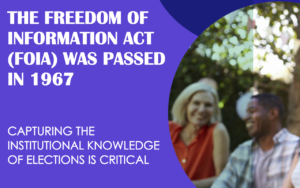 The Freedom of Information Act (FOIA) was passed in 1967, providing a process for citizens to request access to public records. Federal and state agencies have FOIA guidelines for what information is available or guarded. In the area of Elections, the public has become increasingly interested in accessing information regarding the safety and security of processes, the people involved and the election equipment.
Public requests for information about an election continue to arrive, years after an election. While immediate requests do happen, be prepared for requests of historical information. As well, today's current information will be the future's historical-request. Store critical information in a safe and secure area. The information about the current election will be needed to be accessible, years from now.
It's not only the data itself, but the people who have knowledge of the elections. For many, reliable election officials have the process and procedures well-established. They know how it's done and follow regulations properly. Yet, The Great Resignation has affected the elections sector. With high turnover in the election space, many election officials, who were our human storehouses of information, are no longer working. The high-turnover trend doesn't appear to be slowing down. Capturing the institutional knowledge of elections is critical, now more than ever. Delaying the implementation of digital forensics to store the election processes only makes the future more difficult.
Sometimes, the timing of when we get inquiries is challenging. Questions from the public may be appropriate and legitimate, but the timing may not be ideal. Pause and remember that (1) the public wants to get the right answers and (2) we have the information they want. Having an information process in place, with the responses easily available, reduces stress levels and enhances the TRUST of the citizens. This establishes a process to reach the trusted source of information. The likelihood of requests coming to the election office will increase. Providing an easy process for the requests and responses provides a trusted communication path.